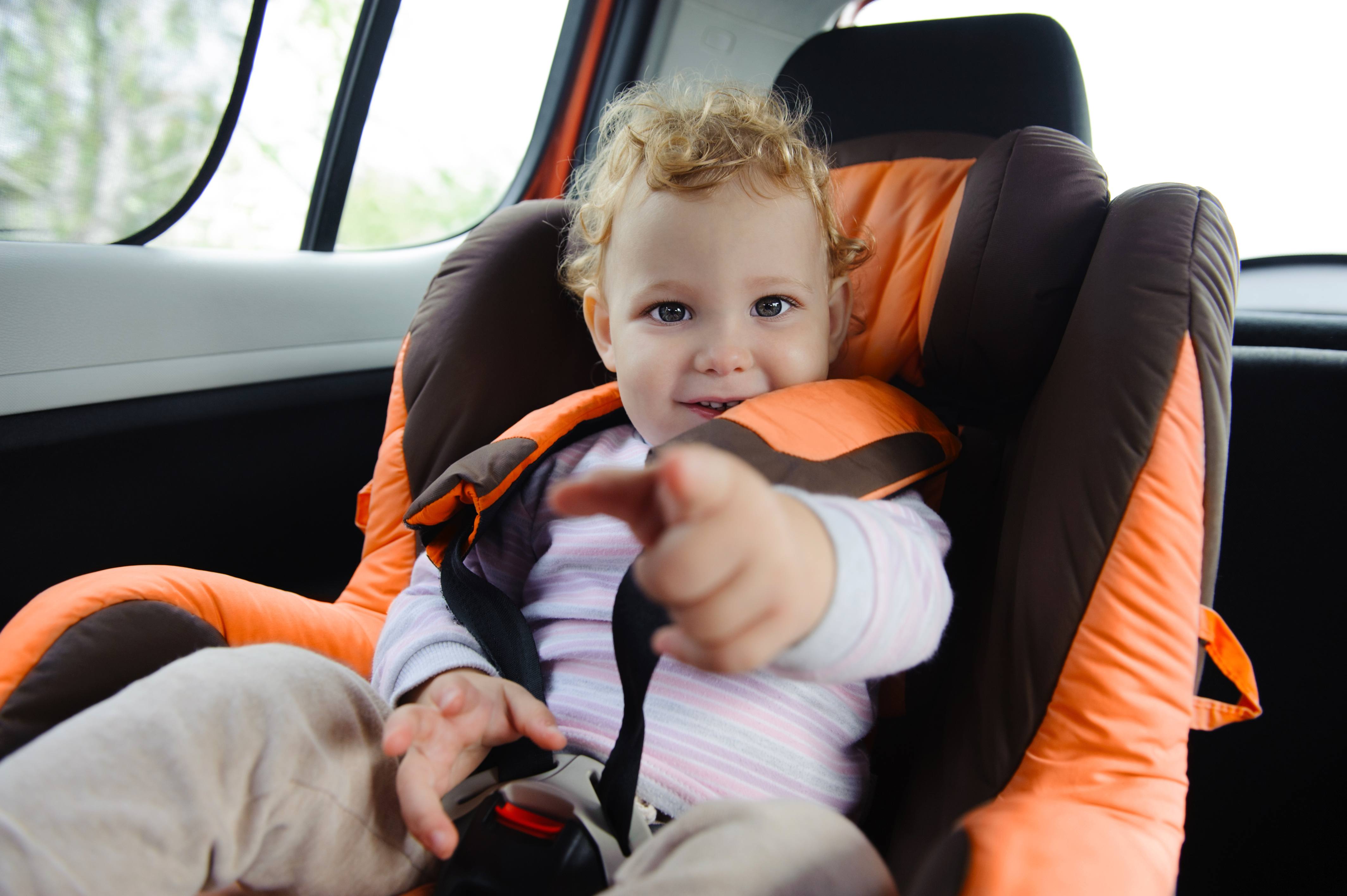 Best Infant Car Seat Of 2017 – Reviews & Buying Guide
What are the best infant car seats for your little one?
Traveling with your little one requires a lot of knowledge and care. As a parent, you should be in-the-know about how to properly protect your child and provide for their needs. To ensure safe travel, using an infant car seat is a must, and you will want to choose the best one for your baby's comfort and safety. Here are some of the best products you may want to look at before you buy.
Graco SnugRide Click
Connect 35 Infant Car Seat,
Britax B-Safe 35 Infant Car Seat, Chicco Keyfit 30 Infant Car Seat and Base,
Safety 1st Light 'n Comfy Elite Infant Car Seat
Evenflo Embrace LX Infant Car Seat.
Why is an infant car seat important?
Did you know that motor vehicle crashes are among the leading causes of injury and death for children of various ages? And, did you know that using a car seat can reduce the risk of injury by up to 82 percent, and death by 28 percent more than relying solely on seat belts?
Safety and security are the primary benefits of using an infant car seat. With them, you are more likely to prevent your child from being injured. Car seats have the capacity to spread forces from a crash over a wide area in the body of the seat, and help protect the spinal cord and brain.
Moreover, car seats add comfort for your child; they fit your little one in a way that no regular seat can. Provided that you get the best buy, your car seat will give your child a great riding experience with little to no hassle.
There are numerous types of car seats, and you are at liberty to choose one that suits your needs. This will provide more convenience to you and your baby. You can choose a car seat that protects your little one while providing ease and comfort as you travel. Indeed, it pays to opt for an infant car seat than just rely on seat belts.
How do you choose an infant car seat?
Just like purchasing any item, buying an infant car seat can be challenging. There are various things you need to look for before you make sure you're getting the best item for your child.
First off, think of the best type for you. Car seats come in various kinds: infant car seat, convertible seat, and all-in-one seat.
A regular infant car seat faces the rear of a car. It fits babies weighing 35 to 40 lbs., and are 32" to 35" tall. It likewise suits a 1-year-old child.
On the other hand, a convertible seat converts from rear-facing to a forward-facing seat. It has the capacity to carry kids weighing up to 80 lbs., and are up to 57" tall.
You may also opt for an all-in-one seat which can carry a child from infancy to the stage when they do not need a booster anymore. It can hold an infant rear-facing, forward-facing in a harness, and forward-facing as a backless or high-backed booster.
While you may think that an all-in-one seat is the best option, be aware that you need to prioritize safety first. According to experts, infant car seats are best for infants who weigh less than 20 pounds.
Meanwhile, you should also prioritize convenience when choosing a car seat for your little one. An item may have the best features, but choosing the most convenient product for your kid is a different story. Know what comforts them and what can provide for their needs.
Lastly, consider the angle. Newborn babies should ride at an angle of up to 45° because this provides the greatest protection against crashes. Choose a car seat that does not take up too much space to avoid discomfort among the driver and passengers.
What are the issues or disadvantages associated with car seats?
While using infant car seats has a number of benefits, it has its share of disadvantages as well.
Rear-facing seats can be challenging to install. Needless to say, this can cause a lot of inconvenience. Rear-facing seats also tend to have limited leg room.
As for convertible seats, they are less convenient compared to regular rear-facing car seats. Newborns may not fit well and you would need to purchase a stroller that is more appropriate for them. Lastly, they don't recline, thus, making it harder for little ones to sleep in it.
All-in-one seats tend to be too large and heavy. They can likewise be bulky and do not have built-in carry handles; therefore, they are not that easy to transport. Moreover, all-in-one car seats are designed to stay in the car; hence, you would need a separate carrier or stroller to take your baby out of your vehicle. For this, they are the less convenient type of seat you can buy for your little one.
What are the car seat mistakes you should avoid?
Sure, there are numerous good-quality products for you. However, carelessness and impulsiveness can hinder you from getting such products. As a responsible buyer, you should avoid the following blunders.
Failing to do research
This is a major mistake a buyer may commit. There are times when a customer does not take time to learn about a product they are buying, and ends up getting an item that does not provide for the baby's needs. Failing to do your research can lead to wasting time and money.
Using the car seat to replace a crib
A car seat and a crib are two different things; they have different uses and purposes, so you should not use the former to replace the latter. Doing so may lead to chest compression and low oxygen levels.
Placing the car seat in the wrong spot
Keep in mind that the best and safest place to put your child's car seat is in the back. Putting it in the front seat may lead to adverse happenings if the air bag inflates.
There are more buying mistakes that you should avoid. Feel free to search for them to avoid situations that can put your child in danger.
The Best Car Seats for Your Little One
You can find a number of car seats on the market. To help you choose, here are five popular products.
Graco SnugRide Click Connect 35 Infant Car Seat, Pierce
https://www.amazon.com/dp/B00PTL0Q9A
This product is a rear-facing seat that has the capacity to protect infants weighing 4 to 35 pounds; it could make a good first car seat for a baby. This ultra-lightweight seat underwent crash test with the aim of meeting or exceeding US safety standards.
Pros
This infant car seat is easy to transport from the car to the stroller
It is a top choice by mothers and leading consumer publications
It comes with the Click Connect Technology that provides a secure attachment between infant car seats to all Graco Click Connect Strollers. It allows you to create a custom travel system
It has a stay-in-car base that makes installation hassle-free
It comes with a level indicator that is easy to read
Cons
This infant car seat tends to be too steep, making your little one look uncomfortable
It can be challenging to maneuver at times
It tends to produce noise when you try to carry it by hand
Britax B-Safe 35 Infant Car Seat, Black
https://www.amazon.com/dp/B0107CZ5U0
This infant car seat uses a safety technology, making it a popular brand among consumers. It comes with SafeCell Impact Protection, an integrated system of safety components working together to provide protection for your baby. This might be the best product for you if you have great concerns for safety and protection.
Pros
This infant car seat has the capacity to surround a child in a protective shell that absorbs crash forces and provides a shield through the complete side impact protection
It helps lessen the risk of injury by absorbing crash energy
Made with impact-stabilizing steel
It allows you to install the base of the seat safety with the use of center-pull straps and quick, push-button, lower latch connectors
It provides comfort and safety to your baby due to its light weight
Cons
It can be too heavy or narrow
It lacks comfort
Chicco Keyfit 30 Infant Car Seat and Base, Lilla
https://www.amazon.com/dp/B00MS9VTG0
This is deemed the No. 1 infant car seat in America. It can carry newborn babies and even those weighing 30 lbs.
Pros
This infant car seat is considered the easiest product on our list to install
It comes with energy-absorbing foam to provide improved protection against impact
It has infant insert for babies weighing four to 11 pounds
It features an ergonomically designed carry handle
It is adjustable and can be set up in multiple positions
It has the capacity to accommodate vehicles without latches through its lock-off system
It features an easy one-hand removal from the base
It is compatible with Neuvo, TRE, Liteway plus, Cortina, Activ3, Cortina Together, Chicco Bravo, KeyFit Caddy strollers, and Liteway Plus
Cons
The sun visor/canopy lacks shade, and so, it lacks the capacity to protect the baby from the sun
It can be tight at times, causing discomfort to babies
Safety 1st Light 'n Comfy Elite Infant Car Seat, Brookstone Blossom
https://www.amazon.com/dp/B01EIB0BX2
This rear-facing seat can accommodate 4 to 22 pounds. It is easy to transport due to its extra lightweight design.
Pros
It features side impact protection
It comes with a 5-point harness and up-front adjustment for more security
It provides safety and comfort to your baby as you travel
It comes with four harness heights, which allows you to adjust the harness so it can properly fit your little traveler
It is easier to remove from the base
It can be easily transported, given its light weight
Cons
It lacks padding
It produces a loud click noise
Evenflo Embrace LX Infant Car Seat, Raleigh
https://www.amazon.com/dp/B00J69XJ04
This infant car seat is especially designed for really small newborn babies. It can accommodate a child weighing from 4 to 35 pounds. It can only be used rear-facing.
Pros
It is 25 percent lighter than comparable infant car seats, but can provide the same level of protection to the baby
Its adjustable auto base comes with central pendulum level indicator which makes possible a proper recline and adds more convenience to the baby
It provides comfort for the baby
It provides the safety needed by babies. It has a 4- to 35-pound harness rating that safety advocates nationally recognize for babies with low birth weight
It comes with a separate stay-in-car base
Cons
Its sun canopy is too short and lacks the capacity to keep the sun out of the baby's eyes
The straps may have relatively awkward positions
It does not fit in shopping carts
Which is the best infant car seat?
Basing on all the details discussed above, it may be safe to say that the Graco SnugRide Click Connect 35 Infant Car Seat could be the best buy for you. All the featured products in this article are of good quality and can fit the needs of your child. But looking closely at each item's features, we think that the Graco infant car seat has a balanced set of benefits.
Apart from the safety and security that it needs, it also provides comfort and convenience. It is likewise user friendly, made possible by the easy-to-understand directions that come with it, and its easy installation. The Graco infant car seat simply has the important features a buyer should look for. Protection, security, convenience, comfort, ease of operation—this infant car seat has the capacity to provide these.
When choosing a product to buy, it is a must to weigh all the benefits that you get. Make sure your prospective item is beneficial in different aspects. As you read earlier, there are numerous factors you should consider when making a purchase. Check each of them, and take note that your verdict should depend on your particular needs and situation.